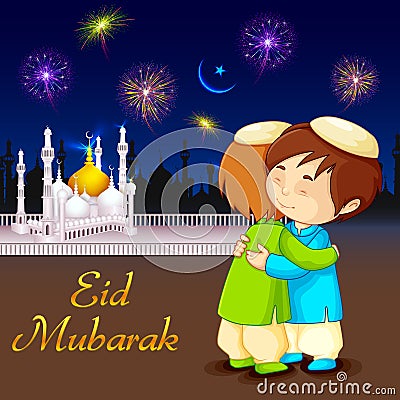 PC
Dreamstine
It is Eid once again. And once again I'll try to recreate the pulao and the korma that Haque mami treated us to, every year during this time. But in all my attempts, it has never arrived anywhere close to the one that stayed in my memory. When there is mindless and barbaric violence in the month of Ramzan, I fall back upon the memories of a similar time that spread warmth and brotherhood in the 'Eid mubarak' hugs. The repercussions of a political aggression to establish economic suzerainty gone horribly wrong in one part of the world has escalated and snowballed with maniacs and insane riding the tide. And yet as the holy month of fasting draws to a close, I reach out across space and time to reaffirm my faith in bonhomie that was once an integral part of the social fabric.
My earliest memories of this day is that of standing in front of the Bajaj scooter and feeling the wind rush against my face, while my father in a skull cap rode to the Idgah outside the oil town ship of Nazira to be the first ones to wish his friends who had been fasting for the last one month. Rows and rows of men in spotless white kurta pajama offered namaaz and then turned around to hug each other. And that vision stayed as an epitome of Eid festivities. The next few days were filled with an air of excitement and anticipation of goodness just as any other festival would bring with it. My friends would be in their crisp new clothes, eyes shining and generally adding to the atmosphere of effervescence. The indulgence of ittar that was dabbed onto my inner wrist and behind the ears made me feel all too important. For perfumes were not meant for children at home. My only interest was in getting to gorge on all that mouth watering delicacies that loaded the table. There was the aromatic pulao, the subtle melt in the mouth mutton korma, succulent chicken roast, bhuna gosht, the fish, the different types of sevaiyan, served with bamboo shoot pickle and lemon pickle to balance the rich fare.
Outside the oil colony, Nani waited for us to have the Eid lunch together. While Moti mama got busy running to and fro the market, Nana regaled us with anecdotes of his younger days. That's how we were taught to address our parents' friends, as mamas and mamis or mahis and mohas. And that's how I guess, we became one big family. Nani with her flawless skin is long gone but I continue to remember her as a plump cuddly warm woman always dressed in spotless white mekhela sador with one end of her sador covering her head. When we dropped in on other days, she ensured that I was treated to some freshly laid eggs from her coop in the backyard.
Then there was Zaheer mama's home across the Dikhow river that flowed through Nazira past the homesteads on one side and the town on the other. Part of the excitement of making the trip was the boat ride and climbing up the embankment. Tucked away on the other side of the river behind a lush growth of hibiscus, henna hedges, pomegranate, bananas, plums, a rich vegetable garden that took care of the daily meals and with areca trees standing tall amidst all,that thick tropical growth, was the simple home that welcomed us with aromatic fragrance down from the river slope.
Since there were so many it was decided to share a meal together at one place at a time. So Farahba, Fanaz, Hasan, Maina and I played outside Sabina and Samir's house while we waited for Haque mami to serve us lunch and the grown ups laughed and shared jokes inside. These were nothing more than an extension of our evening play time together when all the children of the neighbourhood gathered to play irrespective of their age. Only, during this time there was an added air of festivity after the first air of self consciousness of the new clothes, evaporated. Soon the lingering fragrance of ittar was rush of sweat. Dinner would be hosted at Farahba's house and so went on the festivities for many days till a meal at every house was ticked off. Religion was a part of the banter. "Oh! Please hide the big one! We have 'Hendoo' friends over today for a meal!", brought out guffaws and giggles.
While they fasted, Eid was synonymous with sumptuous food as far as I was concerned. Like for every other festival, I associated it with particular food prepared for the occasion.
If it was Durga Puja, it had to be khichudi with begun bhaja, laabra and bilahir tok. It tasted it's best when devoured under the puja pandal along with hundreds of others. The best dahi vada was had at our neighbour, Singh uncle's house during Diwali. We never got to eat the Holi lunch, having stuffed our stomachs with the dhoklas at Patel uncle's house, the murukkus and bajjis at Rao uncle's. Even the prashad of bundiya and bhujiya during Vishwakarma puja had a taste that never felt the same anywhere else. During Bihu, our home would be flowing with guests and mother piling up the fluffy lucis and butor daail with assortment of pithas.
Things were too good to last. A wind was blowing across Assam, gathering force and was turning into a tempest. What began as a student's movement against apathy and gross negligence of the State towards the immigration issue, soon caught everyone and sucked them into the vortex, irrespective of religion, caste and creed. The tempest enetered Nazira and roused up the local officers of the oil company. That small motley group of local officers was broken into and transferred to different parts of the country. The festivals were never the same again. Especially not Eid.
And for days after, I badgered my mother to reproduce the fare. But it was never the same. Today I remember all of them, some have left, some have moved on and some have retired from the mayhem. And yet when Eid comes every year, a part of me looks back at the small town of Nazira and I feel grateful to have experienced and lived in what seems a mirage now. Here's to all of you who have enriched my life and to all others who can believe in what has now become a fairy tale - Eid Mubarak! And once again I shall try to recreate Haque mami's pulao and korma for my children with the hope that I can hand over a time when things were much different.